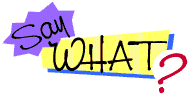 "Twenty years from now you will be more disppointed by the things that you didn't do than by the ones you did do. So throw off the bowlines. Sail away from the safe harbor. Catch the trade winds in your sails. Explore. Dream. Discover." - Mark Twain
8 February 2016: Planning for the 2017 TCHVA Reunion is continuing. Hopefully an announcement of that decision will occur or about 1 March 2016.
Again there are three locations under consideration: Minneapolis, MN, Prescott AZ, and Charlotte NC. Updated info for these proposed locations is available in a number of places to include the Reunion 2017 Planning link and the Special Edition 2017 Reunion Planning Newsletter via the Newsletters link. There is also additional info on the TCH Facebook page.
So please consider taking a moment to let the Board know of your preference No Later Than 21 February 2016. You can use either the "Contact Us" link below this paragraph, or the "Contact Us" link in the Reunion 2017 Planning page or the "Contact Us link on the Navigation Bar to the left on this page. The Board would like to make the best informed decision possible, so any and all input will be most appreciated and welcomed.
Want to see who our members are? These guys are making it all happen! Click here.

Photo taken during Artic Sharem - 1984 North of Iceland - Approaching AOR-2 for RAS
Welcome Aboard the USS Thomas C. Hart (DE/FF-1092) Veterans Association's homeport on the web! We hope you enjoy your visit. Some of our pages on this site feature audio when you visit the page so turn up your volume to enhance your experience. If you ever served aboard the TCH, we'd love for you to join us. Everyone is welcome to look around and sign our Decklog (guestbook). Association members are invited to visit the "Members Only Lounge" for posting comments and discussion items. If you have photos or ideas for the site, please let us know! If your'e a TCH vet, please be sure to "Muster" on the Sailing List page.


TCHVA Members: It's time to renew your memberships! Special Offer - A $20 membership dues will grant you membership until January 2018! Click the "Join TCHVA" page on the left or click the link below to join/renew your membership. Check the current Member Listing Page to see if your name is listed. If it isn't your membership has expired.
Click to Join or Renew TCHVA Membership now!
Newly Arrived - TCHVA Membership cards!
Get yours now!